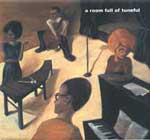 Various Artists
A Room Full Of Tuneful: A Melodic Compilation
(Melodic)
For the 10th release on their label, Melodic is probably doing just the right thing to help ensure that they get the exposure that they deserve in the future. After a batch of 10 and 12" releases and one full-length by Minotaur Shock, the upstart label has gathered together a dozen as-yet-unreleased tracks by a variety of excellent artists for nearly an hour of good-times listening. With an overall label sound that lies somewhere between electronic and acoustic, artists on the label aren't afraid to mix stringed instruments, guitars, and pretty percussion with chopped-up beats and other digital trickery.
The disc opens up with a short, track called "Lay Down Mega Man" by Pedro (the only artist making two appearances on the release). Anchored with a quiet beat, it drifts along with a fluttering horn sample and some other spacey sounds, while Topo Gigio moves things into a more playful territory on "Locked Out" with a somewhat rollicking beat alongside plucked strings, choir samples, and all kinds of other interesting sounds. It's one of the more dense tracks on the disc, and quite fun. Tex La Homa adds "Feel Tied Down," and with vocals, the track is one of the most band-sounding releases on the disc, although it still has plenty of subtle electronic effects.
Artists from a couple other like-minded labels make appearances as well, and with "Daylight," I'm now convinced that I need to hunt down Chessie's last release. Moving along with an almost hypnotic background melody, it adds more and more instruments until it's darn near rocking out (and the theme of trains from Overnight also clearly comes through). Empire State turns in "The Elements Of A Wish," which grooves along with a electro-acoustic noir sound, mixing swirling strings city samples with an almost chunky beat. Noakes Pressure keeps things moving along at a nice clip with the funky beat and oddly catchy melodies of "Weaves Tickling The Ivories..." and the end of the track turns into sort of a hiccuping hip-hop cutup. Fans of the aforementioned Minotaur Shock will also be happy to find that they contribute a new track entitled "Lady Came From Baltic Wharf," and it continues in the vein of their release Chiff-Chaffs, and Willow Warblers with a quiet beauty.
If you haven't heard of any of the above artists and are still skeptical, releases like Pause by Four Tet and Arbor by Greg Davis both have things in common musically. Pastoral and beautiful, with a focus on catchy melodies (hence, the title), Melodic is quickly making a name for themselves with a batch of very solid and interesting releases. With upcoming full-lengths by several of the artists featured on the sampler, they're also prepared to give you even more of what you're craving if you fall for this compilation. Perhaps best of all, it's bargain-priced, so if you've been wanting to give the label a listen, now's the perfect chance.
Rating: 7.5