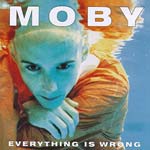 Moby
Everything Is Wrong
(Elektra)
Before he became a household name and platinum selling artist with his 1999 album Play, Moby went through what many thought was an identity crisis on the album Animal Rights. It was half speed-thrash pseudo-punk with lyrics while the other half was soothing ambient. It was before that release, though, that he released Everything Is Wrong. Like Play, it received critical acclaim, but only sold less than one tenth of the copies.
That isn't to say that it's a worse album than Play, but like you've come to expect if you've listened to any Moby at all, it's different. It was before electronic music was being used in either film or television commercials on a regular basis and although electronic music was catching on, it still hadn't exploded in terms of mainstream popularity. Also like his other albums to date, Everything Is Wrong is quite a hodgepodge of sound. There are ambient piano tracks, full-bore dancefloor burners, and even two more punk rock infused tracks (showing the fascination as a precursor to the aforementioned Animal Rights).
In fact, the album starts out with just such a 1-2-3 punch. "Hymn" is a slight, but pretty tune fueled by piano and synth string washes while "Feeling So Real" kicks out the jams with a speedy breakbeat and screaming diva and ragga samples before "All That I Need Is To Be Loved" drops in fuzzed electric guitars and screaming vocals by the small bald one himself. Of course, the album doesn't stop there, and after the hip-hoppy filler of "Let's Go Free," the album gets cranked right back up to a fever pitch on "Everytime You Touch Me" and "Bring Back My Happiness."
After the proto-punk "What Love," and the speedy "Anthem," the album cools things down for the rest of it's duration. Piano sounds are dominant on the last few pieces as well, whether it's the short album-titled "Everything Is Wrong" or the epic, almost algorithmic progression on "God Moving Over The Face Of The Waters" (also featured in the movie Heat and on his I Like To Score release). The final piece is the rather haunting (again awash in synth sweeps) "When It's Cold I'd Like To Die," featuring vocals by Mimi Goese (who sounds somewhat like a subdued Annie Lennox).
Overall, those who like Play should also enjoy Everything Is Wrong. It's somewhat eclectic like his other work, and although it has a couple disconcerting louder tracks, it has many of the same elements that make the newer release enjoyable. The album titles may suggest they're polar opposites in tone, but they're really not.
Rating: 7.5